Hello again, dear friends… Today I am opening this topic for discussion to allow the community a place to speculate on 'The Figure' that appears in Entry #41 and has been speculated to have walks past Jay's van in Entry #39. This topic is open for anyone to post, and no idea is off limits, as long as it is within reason, and follows the rules of the forum. Top theories will be added to a list in this post, and the contributor will be credited of course. A few final notes; please keep this on-topic, and when I say speculation, I mean the identity of said Figure, motives, etcetera. NOT there sexual preferences. (Not that I don't trust all of you to keep on topic, I'm just covering all the bases)
Without further ado, let the discussion begin!
Keep safe, Watch your back,
-Zero
A screenshot of 'The Figure';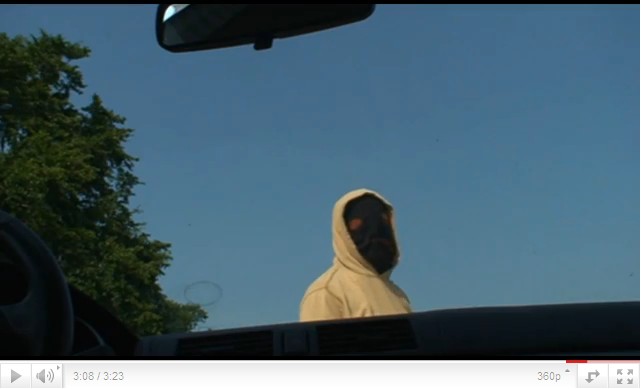 Theories;
Possible Suspects;
Alex; Has been acting very strangely since Entry #35, Attack of the Rock, possibly using a disguise in attempt to keep his identity from Slenderman...
Tim; The least likely suspect, as he probably hates Jay and Alex with a passion, and the fact he already has a disguise.
Jay; Possible, although the time between the drop of the camera and 'The Figure' returning for it is quite long, although we don't know the actual amount of time it would take to get to the location of the camera from Jay's car, soooooo... Also, it does not explain why Jay would walk away from his own car.
A cast member from the original crew; Possible, as they were all 'gone' as of Entry #22, possibly meaning they were captured by Slenderman
Jessica; Possible, as 'The Figure may have a larger chest size, but because of the angle of the camera, it is difficult to make out.
totheark; Possible, but because not much is known about him/her/it, it's difficult to give motive for this.
A new character; Simple enough, we've got someone new to deal with in this series, but whose side they are on remains to be seen.